I am so sorry to report that after 34 years as a certified teacher

I will be (temporarily) losing my certification after

June 30th, 2018


This is my own fault, and I apologize for the inconvenience this will cause.


To be clear- I will be temporarily unable to legally sign or issue Certificates of Review.


Explanation: I thought I was going to retire! When I decided against it,

it was too late to complete all the steps that needed to be done in time.

I am still in a scramble studying for and taking exams before my certification

expires, so I will not be taking on any new clients at this time, and I will not be

adding any new portfolio reviews to my pile right now.

I will be completing the ones that are already on my plate before June 30th.

Again, my deepest apologies!

I see now that I still can be, and still WANT to be of

useful service to you and to the Lord, and I ask for your prayers

as I work toward getting myself reinstated (hopefully within a month.)

I will update this site as soon as I have achieved my goal.



Once I am able to continue serving you,

please be advised my rates will be going up to $50 per eval.

The state has raised the rates on everything involved with certification so...

I will have to raise my rates to cover those costs.

I appreciate your understanding.

Until then, God bless you all, and stay the course!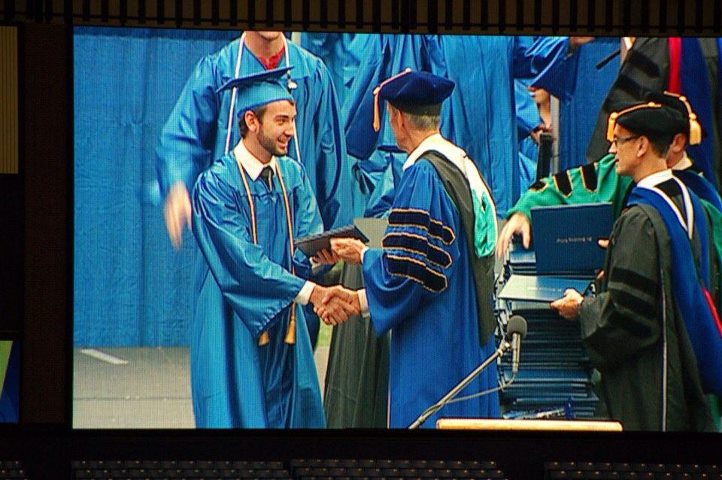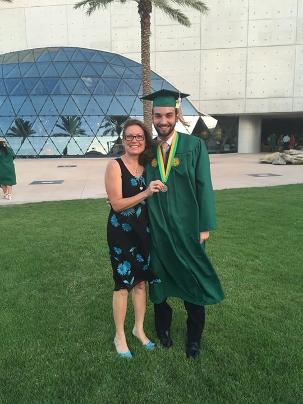 Stephen, A.A. Degree, Spring 2013 Stephen (and Mama!) Spring 2015, B.A. in Finance!


With GREAT joy, I present to you, our son, STEPHEN AVERY GALIARDO, who graduated, Magna Cum Laude, in the spring of 2013 with his AA degree from SPC. In the spring of 2015, Stephen graduated from USFSP, College of Business with a B.A. in Finance. He achieved the designation of Magna Cum Laude (again!) and was THIRD in his graduating class! Homeschooled from day one, Stephen is now working at an international financial firm in St. Petersburg, FL. We are looking forward to his wedding to the girl of his dreams in the spring of 2016!

His younger brother, ROBERT CHANDLER GALIARDO, was also homeschooled from day one. Vowing to achieve an even higher GPA than his brother (Don't you just love sibling rivalry?). Robert graduated in the spring of 2015 with his A.A. degree from St. Petersburg College, Summa Cum Laude! He will be attending the USFSP College of Business in the fall of 2015, seeking a Bachelor's degree in Business Management. Go Bulls!
Update: Robert graduated May 7, 2017 with a B.S. in Business Management from USFSP. And this concludes the formal education of all of our children! (Insert pic of me doing a cartwheel!)

We are overwhelmed by the goodness of God. SO proud of our sons. SO grateful for what the Lord has done in our lives and will continue to do. He is faithful. Let US be faithful in what He has called us to do... this monumental task of homeschooling!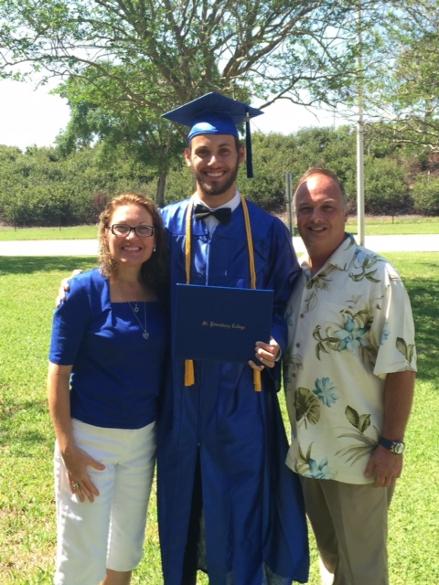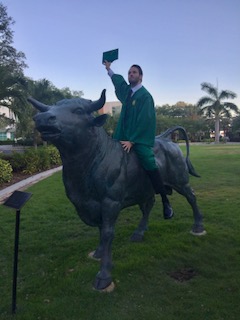 Robert, A.A. Degree, Spring 2015 with his very proud and grateful parents.
And celebrating his B.S. Degree from USFSP on May 7, 2017!
You are AMAZING
My clients are first time newbies and seasoned professionals. They are stay at home
mom's and full-time employees. Some are even dads, and one is a brother. Some are

dirt poor. Some, well-off and generous. They are college educated and... not so much.

Some are single. One is blind. One is homeless. Many have endured the loss of a loved
one, as we have. (This helped us minister to you.) They live all over the state of Florida,
and some in other states. One lives in Ecuador, one in Zambia, one family lives on a

boat with two little red headed homeschooled boys and travels the world. Some want
to be truck drivers, some neurosurgeons. Some are professional tennis players. Some

are professional ballet dancers. Many are taking college courses. Some are working hard

to accomplish even the most simple skill of turning a head- sometimes not so simple.

None are perfect. But you all have one thing in common (besides knowing me) ...

You are AMAZING. And I am so entirely blessed to be a part of your lives. God has great

plans for you!

Need an eval?
BEGIN HERE ↓

Preparing for a Portfolio Evaluation
is as easy as 1,2,3 !
If you do not complete ALL of these steps,

your evaluation will not get done!
1.
Fill out the Contact Form-on the CONTACT page.
This form gives me ALL the info I need to start a current file for your family.
If you do not provide your email address and your phone contact on this form, I will not be able to contact you- as this is a "no reply" form.
(This new (longer) form eliminates the need for the
previous "Student Info Forms.")
This "all in one" form can be found on our "
Contact
" page.
2.
Read
EVERYTHING
on our "
Services
" page, including our powerpoint,
"

How to Prepare for a Portfolio Evaluation, without losing your mind!

"
and download our handy
"

Checklist

"
. Do not submit this checklist. It is for your use
only.
3.
Pay
for your evaluation. You can do this
right on our "Services" page using
Pay

Pal
. (Payment must be received prior to portfolio review.) I am like a vending machine- I don't work until I get paid!

If we are doing an online evaluation (My favorite!), as soon as you have sent me the "items required by law" (as indicated in the power-point and on the Checklist on our "Services" page), and you have completed #'s 1, 2, and 3 above, I will get busy with the review. Please let me know when you have indeed sent everything so I know to double check it all.

As soon as I have completed the review, I will contact you to set up an appointment to meet with you and your student(s) for a brief, helpful online interview using Skype, FaceTime , or Facebook Messenger (video option. Assuming I see progress, the Certificate of Review will be emailed directly to your County Liaison and to you.

If we are meeting in person, just bring the portfolio and your student to the agreed upon location and be prepared to wait as I go through each item required by law. Then we will proceed with the interview portion.

Note to the Newbees: Please don't feel everything has to be perfect! The first time I evaluate you/ your student / it is a learning experience. Your goal is to prove your student has made progress. Just breathe!

Please keep in mind- the months of June, July, and August are my BUSY SEASON. There will be other families ahead of you. Be patient. If your evaluation is turned in late- it is usually never because I didn't get it done on time. If you are already past due, ask for an extension from your county liaison. I can sometimes fit you in. Follow all these steps and you will be just fine!

"Evaluation time does NOT have to be stressful!"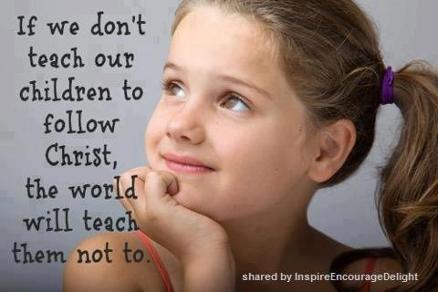 One of our clients writes...
Carleen,

I wanted to let you know that your online evaluation was a wonderful blessing to our family. Not only was your website well organized and a great help, but your sincerity and care for my children's educational future shined through brilliantly. Thank you so much for the excellent information on homeschooling resources! I most definitely recommend you to anyone who wants an attentive, considerate evaluation of their homeschooler's work.

Annette D.

See more on our "Testimonials" page!


This is a GREAT project for your homeschool.
For $9 per month, you can help Mocha Club rescue women from a life of trafficking, teach them a trade, share with them the Gospel of Jesus Christ, and provide emotional support.

Click Here To Join Team Evaluation Station! (Currently out of service.)
Your homeschool can help change a life!
%%%%%%%%%%%%%%%%%%%%%%%%%
You can also support these women-at-risk by purchasing one of their handmade scarves from
(EvaluationStation.Com receives no monetary compensation from our promotion of this effort or any resulting sales.)
%%%%%%%%%%%%%%%%%%%%%%%%%
Edu-News
Read the latest on SAT revisions which will be in place by 2016. Just more evidence of governmental "Dumbing Down" of our nation.
Also, keep up to date with the "Common Core" issue that plagues our public schools.

THIS is how we celebrate

after our evaluation!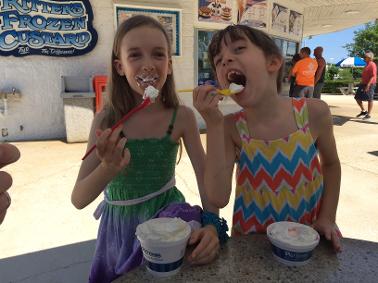 Need a little help with your homeschooling?

Check out our new MENTOR PROGRAM!
Feel like you finally have something to offer?

Check out our new MENTOR PROGRAM!
Click on "Mentor Program"

in navigation bar at the top of this page.


While we respect each person's right to choose their own faith, it is our hope that all would come to know Jesus Christ (Yeshua) as their Lord and Savior. We know that this goal is difficult to achieve without having an opportunity to hear the Truth through the Word of God. We take seriously God's command in Matthew 28:19, "Go make disciples of all nations..."

There are many people living in fear for their lives, who are desperately searching for a Savior. Join us as we support the efforts of Hormoz Shariat ("The Iranian Billy Graham") and minister to the people of Iran through Iran Alive Ministries which provides a direct connection to the Gospel by broadcasting truth and fellowship via television to over 7 million viewers. Iranians are coming to Christ in droves through this ministry which reaches right into the privacy of their own homes and lets them know there is a Savior who loves them and wants to have a personal relationship with them! Studies show many Iranians list this as their most favorite tv show.

Access this link and watch the video in the lower right corner of an Iranian woman bravely accepting Jesus as her Savior. Your prayers and support of this ministry are greatly appreciated.

*****************************************************

Evaluation Station also supports...

THE PREGNANCY CENTER OF PINELLAS COUNTY
Sponsored by New Life Solutions
Click on the pic below to learn how
you
can be a life saver!